The creation of the first ever iPhone operating system was a huge milestone in the history of mobile development. It allowed us to conceptualise the notion of a multi-functional, web device with a capacitive touch interface. The system was originally named "OS X" as it shared a similar Unix core with the full-fledged desktop operating system but it was renamed to iPhone OS. The following year, App Store was launched, allowing iPhone users to download third party applications and eventually democratising software distribution.
Mobile applications have actually been around far longer than the iPhone. Plenty of devices had applications such as a telephone, music player, GPS, camera… and let's not forget the iconic snake game. However, the conception of the App Store really turned smartphones into a pocket computer – like it was meant to be.
Today, apps are an essential part of our day to day lives. Apps can be used for browsing, socialising, entertaining, shopping, delivering, paying banking, checking the weather and simplifying many daily tasks all at the tap of a button. There are currently over 2 millions apps available at the App Stores so if you want to check snow conditions on the mountain, check how many calories are in your lunch or where exactly you parked your car, there's an app for that.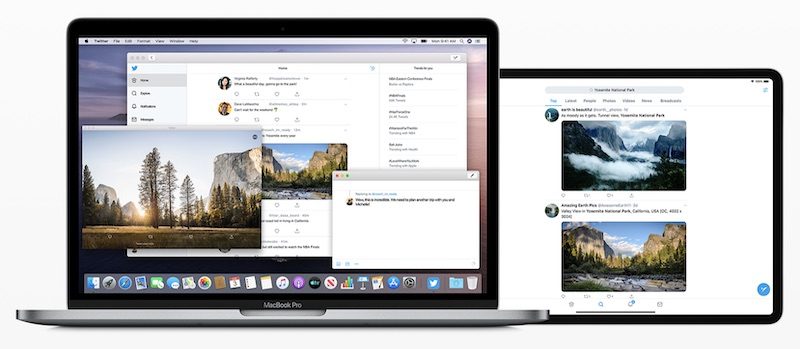 When Apple unveiled the iPad in 2010, it was marketed as a "great computer in a book that you can carry around with you and learn how to use in 20 minutes". It operated on iOS and could run the same apps as you could on the iPhone. As the iPad evolved, so did it's apps. The large display dimensions and familiar interface meant that some apps could be optimised for the iPad. Today, we see more and more iPad exclusive apps which take advantage of all of the iPads unique features.
Since mobile apps have been a booming success and progressive web apps have been the latest trend, development for MacOS has been on the gradual decline. There's a very small number of MacOS developers Developers have prioritised developing for smartphones and web due to their popularity; even Twitter had pulled the plug on its official desktop app due to the increasing focus on mobile development. Twitter had also found that far more users were using the web application instead.
Until…
Twitter is thrilled to announce we are bringing the Twitter for iPad experience to the Mac!

The all new Twitter for Mac will be in development this summer in preparation for an early launch on macOS 10.15 Catalina. pic.twitter.com/Q13OUMRgjt

— Twitter Support (@TwitterSupport) June 3, 2019
Apple announced Project Catalyst at the 2019 WWDC, a project which would merge development for iOS and Mac apps into one, creating a universal app framework across all devices. Project Catalyst's new tools will allow for uniformity and consistency across devices.
Since iOS and MacOS already share the same Unix code, Core Foundation framework and Metal framework, the transition should be relatively simple. Apple's release of Xcode SDK will allow developers to create universal apps. For now, you can create a native Mac app on the Xcode 11 beta by selecting the "Mac" checkbox in the project settings of your iPad app. MacOS and iOS apps will share the same codebase, making it easier to maintain for developers.
In 2021, Apple also plans to merge the App Store, meaning that developers will only need to submit a single binary to the App Store for deployment on iPad, iPhone and Mac.
Apple has already made several universal first party applications available with Project Catalyst including News, Home, Stocks and Voice Memos. In addition, third party companies such as Twitter, Atlassian and Gameloft have already created native Mac apps based on their existing iPad apps. The launch of MacOS Catalina later this year will hopefully feature even more native applications from Apple and other third party developers.
LEAP's suit of software currently features some highly functional iOS apps. We are excited to try out the Project Catalyst tools and explore the ability to build a native MacOS app. Our mobile team is engaging in lots of research and development to discover the possibilities to further enhance our applications for MacOS.